Hi gals! I've advertised some of my eBay auctions here previously, but now I'm here to announce the opening of my sales journal,
pikojapansales! I have a ton of gyaru fashion and magazines for sale.


Under the Clothing/Fashion section, I currently have brands like LIZ LISA, PEACH JOHN, and ROSE FANFAN for sale!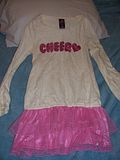 Under the Magazines section, I currently have magazines like ViVi, S Cawaii!, AneCan, BLENDA, and much much more!




Visit
pikojapansales today and help a gal out <3